Liebster Blog Award!
Holly
@
Perfectly Imperfect
gave me this blog award yesterday! I'd never gotten a blog award. So that's pretty awesome.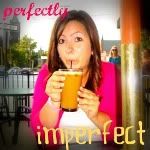 I think the word that comes to mind when I think of Holly and her blog is
fun
. She's a fun, positive girl who lifts my spirits and I wish she lived next door. Haha. She writes about all kinds of things, but I think my favorite posts of hers so far are her
dating advice posts
. They are funny, simple, and SO true - so you should check them out. :)
Thanks for the award, Holly! "Liebster" is definitely an excellent word to represent you!
Which leads me to an explanation because you're probably wondering what in the world that means...
What does the Liebster Blog Award mean?
The Liebster Blog Award is given to up and coming bloggers who have less than 200 followers. Liebster is a German word meaning dear, sweet, kind, nice, good, beloved, lovely, kindly, pleasant, valued, cute, endearing, and welcome.
To keep this award going, pass the award along to 5 other new deserving bloggers who have less than 200 followers.
The rules for the Liebster Blog Award are:
1. Thank the giver and link back to the blogger who gave it to you.
2. Reveal your top 5 picks and let them know by leaving a comment on their blog.
3. Copy and paste the award on your blog.
4. Have faith that your followers will spread the love, too!
I picked blogs of ladies whom I don't know in person but would LOVE to meet. I've just recently started following these blogs and loved them immediately. I'm getting to know them more and more through each of their posts - I encourage you to do the same! :)
My 5 Liebster Blogs:
1.
Kristen
@
Joy in the Journey
Kristen is an adorable mama to a cute little curly haired boy. I just love their family - her love for her boys is so evident in her posts! She definitely lives up to her blog name.
2. Megan @ and today was a fairy tale
Megan is a newlywed who is an inspiration to me - especially when it comes to digging deeper into God's Word. Just go look at her blog and you'll understand what I mean!
3. Lauren @ WIFESTYLES
This gorgeous girl is one of my new favorites. She's another newlywed like me, and I love reading about her journey! How beautiful is that picture of them in the sunflowers??
4. Jessie @ I'm a Wife and Mama Now?
Jessie's family is another one that I love - her baby is just precious! She's taking a big stand against bullying which is so cool. You can link up & share your story there if you want to help!
5. "P" @ Life's Little Lessons
Paula, aka "P", is a beautiful girl with a lot to share - I already feel as thought I've learned "lessons" from her even though I haven't been following long! Go read her love story right now. Do it.
(She's already gotten a Liebster award but I don't care. Haha.)
So there you have it! My 5 picks! Go check them out - it's worth your time. :)