It's time for some confessions, y'all.
This week I went four days without washing my hair. Yeah. Not attractive. But remember my life changing discovery of dry shampoo? Man I can't imagine my life without that stuff now. I guess my dependence on it has gotten a little out of control, haha. I've tried so many different brands of dry shampoo and currently I'm loving this one: Pssssst Dry Shampoo.
Jordan was gone on a little work trip to Louisiana last night. I couldn't get to sleep so I got two of his shirts from the dirty laundry and wrapped them around me. It helped. :) He doesn't have to travel much for work so I'm thankful for that. (For those of you wondering what he does, he's a structural engineer and does analysis on cell phone towers - and climbs them!)
Working at an eye doctors' office has made me regret every time I've ever complained or gotten impatient or annoyed at a doctor's office. I guess before I worked here I thought that checking someone in involved one click of the mouse and it was done. But um no. That's not the case. It's a complicated process!
I'm kind of addicted to Slim Fast shakes. If I have one for breakfast or lunch it really holds me over until my next meal. The creamy milk chocolate kind is my fave. I had chocolate milk the other day and I thought it tasted weird and then I realized I was comparing it to Slim Fast. Is Slim Fast my new chocolate milk???? (I love chocolate milk.)
I'm linking up with E, Myself, and I for Midweek Confessions!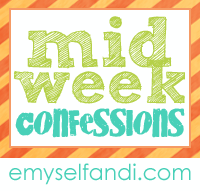 Hope everyone had an amazing Wednesday!